---
These Top Children's Authors are CBI Insiders:
Here's How

You

Can Join Them!
Fort Collins, Colorado  
Dear Future Superstar
:
Like most hopeful children's book writers, you've likely spent hours slogging around the web, getting advice that's often confusing, outdated and, too often, just plain wrong.  No wonder it seems like your dream of building a career writing for children seems so elusive.   I'm happy to tell you that it doesn't have to be this way.  In a single moment, you can leave all of that behind and move powerfully toward your destiny.  
I'd like to personally invite you to join the CBI Insiders.
Hi, I'm Laura Backes, founder and publisher of Children's Book Insider, the Children's Writing Monthly. For more than 30 years, we've been the undisputed "go to" authority on writing and publishing children's books. We've taught thousands of regular people how to become published children's authors.
We've done it by offering accurate, honest and simple instruction that gives our readers a rock solid foundation to build upon — and that keeps them one step ahead in this ever-changing publishing world.          
"With Children's Book Insider on my side, I went from being unpublished straight to the bestseller list! If you dream of writing for children or teens, CBI is the place for you."
– Ken Derby, author, "The Top 10 Ways to Ruin the First Day of School"
As a CBI Insider, you'll get exactly the information you need any time you want it.  Whether you're an absolute beginner or a seasoned pro, you'll find trusted answers to your most pressing concerns — and you'll also find a warm, supportive community of fellow children's writers excited about their success… and yours.    
Hear what some of our valued members have to say about CBI: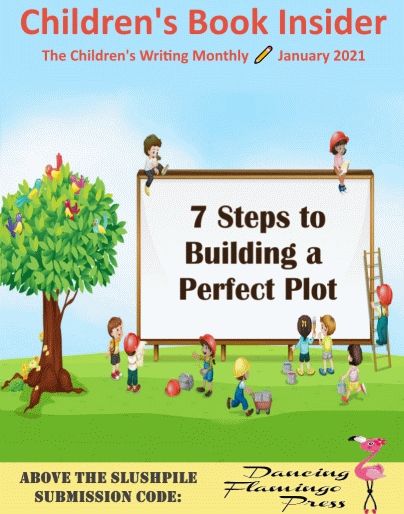 Here's a taste of what it's like to be a CBI Insider:
The CBI Clubhouse, our members-only site packed with articles, videos, courses, back issues & much more.

Yours as a CBI Insider!
✏️  You log into our exclusive Insiders-only website.  There it is — the brand new issue of Children's Book Insider.  You download it so you can savor all the articles and exclusive market leads later.
     Aw heck, who can wait for that?   You sneak a peek and see that a top agent is seeking new clients from among the ranks of the Insiders — and you seem to be a perfect fit.  What an exciting way to start the day!
✏️  You're busy, so no time to browse.  Maybe later. Right now, you need to know more about agents so you can make your big pitch.
     A simple search reveals a host of great information on the subject.  A few minutes later, you're ready to contact that agent.
✏️  Later that evening, when the kids are in bed and the house is quiet, it's your time to explore.  You click around and marvel at the treasure trove of advice and instruction.  It's all here — how to target the correct age group, how to come up with great story ideas, develop characters, craft plots and more.
     You learn, in less then five minutes, exactly how to target the right publisher for your story — and what to say in the query letter. And look!  There's an article that shows you how to format your story for the Kindle and sell it on Amazon.  And here's some killer inside advice from a world-famous expert on creating apps for children!
✏️  You spend some time enjoying a replay of a recent CBI Kidlit Social.  How cool — you can ask top experts anything you want and get an immediate answer.  And this happens every week!
✏️  Before calling it a night, you decide to drop by the Insider Private Facebook Group.  Smart move.  Some fellow Insiders are discussing an article in the current issue of Children's Book Insider about how to grab an editor's attention. It's a lively, fun discussion and you're drawn right in, sharing thoughts and ideas with your new found friends.
  And that's just scratching the surface.  There so much more — and it's all presented in a  fun "can do" spirit that honors how special your journey to publication truly is.  
"Children's Book Insider is the best newsletter around for anyone who wants to write children's books. I highly recommend it."
–  Patricia Reilly Giff, Newbery Honor winning author of Lily's Crossing and Pictures of Hollis Woods, and one of the most popular writers of our time.
It's Time For You to Join Our Community of Writers Dedicated to Changing the World With Their Words:
So, all of this must cost a lot, right? Hundreds? Perhaps thousands?
Nope. Not even close.
That amazing day of learning, fun and connection you just spent as a CBI Insider? It cost about 13 cents. That's right.
For a limited time, an entire year of Children's Book Insider and full access to all the amazing benefits costs only $49.95. No catch.  No extra charges.  No kidding. (If you're not ready to commit for a year – no problem! You can go by the month with no obligation for just $5.49 per month, and cancel anytime.)  
Become a CBI Insider Right Now & Get:
A fresh downloadable issue of our legendary newsletter Children's Book Insider at the beginning of each month. Every issue of CBI is packed with exclusive leads from publishers and agents seeking writers, hands-on writing instruction, interviews with top authors and much more. Since May of 1990, CBI has been the "secret weapon" for a generation of successful authors. Now it can be yours!
Exclusive ABOVE THE SLUSHPILE codes that give you priority treatment at top publishers and literary agencies! Publishing professionals know that CBI Insiders are serious about their craft, so they're comfortable providing special treatment for our subscribers. Get direct access to editors and agents with our exclusive Above the Slushpile codes in each issue of the newsletter!
Unlimited access to the CBI Insider-only Website

,

our massive site packed with articles, audio, video, ebooks and more — covering every aspect of writing children's books.
 

Unlimited access to the CBI Private Facebook Group. Connect with fellow children's writers from across the globe, to share advice and inspiration, and to celebrate all your triumphs!

 

Unlimited access to the CBI Back Issue Archive. You'll be able to read, download and search through the last 5 years of Children's Book Insider. That's 60 issues packed with even more instruction, advice and insight! (The Back Issue Archive is only for Insiders signing up at the annual rate.)

 

Awesome Member Appreciation Gifts. We love to surprise our Insiders with valuable gifts. Past Member Appreciation Gifts have included a complete social media training course, a world-exclusive video of top agents and editors discussing what they're seeking, a personal development course worth close to $200 and more!

 

Special secret bonus content. When you read some of our articles on writeforkids.org, you may notice that we often set some of the "good stuff" aside for our Insiders. When our writeforkids article explains the "what" and "why" of a writing technique or publishing medium, you'll be able to click through to special bonus content that explains the "how"!

 

New member bonuses! Immediately upon joining the ranks of the Insiders, you'll get three valuable ebooks: I Wish Someone Had Told Me That! 64 Successful Children's Authors Share the Advice They Wish Someone Had Given Them…, How to Self Publish Your Book for Amazon Kindle and Facebook: The Essential Guide. They're yours to keep!

 

Insider discounts on our products, special opportunities to publish work and much, much more!

 

 

well more than $1000 worth of exclusive teaching, inspiration and connection for just about 13 cents a day

  No wonder one of our Insiders emailed us to say: 

"Thank you so much! I can't imagine not subscribing to CBI and still taking myself seriously."

 

You can't go wrong with this incredible guarantee!

   

Explore all of our resources. Take advantage of our publishing leads. Connect with kindred spirits on our private group. And get inspired to make the word a better place with your words. If, for any reason, you feel that we're not a good fit you, drop us an email during your first 30 days as a subscriber and we'll refund your entire purchase price. No questions asked.

 

Take the Step That Can Change Your Life…and the World.

   

"Children's Book Insider gave me the knowledge, confidence and encouragement to chart my own course to writing success. Trust me, there is no better investment than joining CBI!"

–  Cyndie Sebourn, author, "Smarty Britches"

 

When you become a Children's Book Insider subscriber, you get much more than direct instruction from an amazing team of authors, editors and educators. You're part of a community of action-takers. Writers just like you who started at square one and are now impacting the lives of children around the world.    

 

While others are just dreaming, you'll be doing!

Soon you'll be writing and promoting your work, mastering your craft, supporting important literacy-based causes and filling your life with vibrancy, fulfillment and excitement. You'll learn the ins and outs of writing every type of children's book — from board books for toddlers through young adult novels. You'll get the inside scoop on sending your manuscripts to publishers and making the most of new technologies such as apps and ebooks. And you'll get it all from experienced pros who know how to cut through the hype and jargon and tell you exactly what you need to know to succeed.

 

Give it a try. See how it feels to be part of our amazing community. Explore all of our resources. Take advantage of our publishing leads. Connect with kindred spirits in our private groups. And get inspired to make the word a better place with your words. If, for any reason, you feel that we're not a good fit you, drop us an email during your first 30 days as a subscriber and we'll refund your entire purchase price. No questions asked.  

 

PLUS: Join Now & Get These Great Bonus Gifts — FREE!

 

 

I Wish Someone Had Told Me That!

This is one of the best eBooks we've ever done. We asked 64 successful children's writers for the advice they wish someone had given them when they were starting out. There are dozens of pure gems in this ebook!

 

 

How to Self Publish Your Book for Amazon Kindle

A fantastic step-by-step course and action guide to create and sell your book on Amazon. Includes worksheets, instruction guide and free sources for creating and converting your book!

 

 

Facebook: The Essential Guide

If you're not fully maximizing the power of Facebook Fan Pages to build your career, you are truly missing out. Here's a simple guide that tells you exactly what you need to know!

 

These bonuses are yours to keep — even if you choose not to stay on as a CBI subscriber!

 

 

So, ready to finally make the leap from dreamer to writer?

 

"What has impressed and helped me the most has been the wealth of continuing information on how to write and understand the ever-changing world that encompasses being a children's author. Keep up the good work CBI. I'm proud to be associated with your organization."

– Anne McGee, award-winning author of "The Mystery at Marlatt Manor"

100% Secure Checkout

Testimonials that appear on this website reflect the real life experiences of customers who used our products and/or services. Of course, individual results may vary. We do not claim, nor should the reader assume, that any individual experience offered is typical or representative of what any other consumer might experience. Testimonials are not necessarily representative of what any other person using our products and/or services may experience. The customers giving testimonials on this website may have been compensated with free products or discounts for use of their experiences.

The testimonials displayed may have been edited for clarity, or shortened in cases where the original testimonial included extraneous information of no relevance to the general public.